Studio: Kyoto Animation
Director: Hiroshi Yamamoto
Genre: Comedy, School Life, Seinen
Episodes: 14
Status: Incomplete
Official Site:
The Melancholy of Haruhi Suzumiya
(Japanese)
Download Locations:
The Melancholy of Haruhi Suzumiya
Additional info on the plot, characters, etc. may be found at:
The Melancholy of Haruhi Suzumiya - by Wikipedia
Caution: Spoilers Contained Within
Episode 01/02 Review:
The Melancholy of Haruhi Suzumiya is very unique show. Sure, school life harem has been done, but never before has it featured after school clubs, a laid-back, follow-the-leader doofus, and a completely psycho dominatrix-type babe.
As far as I can tell, the show is about a handful of recent middle school graduate kids being extorted into joining the dominatrix' new club, the SOS Brigade, and their various school life and after school club life adventures.
So episode one is a little weird. It consists almost completely of the Haruhi-directed student film, which features Mikuru Asahina in a tight bunny outfit, apparently no bra, and a bit of running and 'bouncing' around, if you understand what I'm saying. Those are the only good things about the film, and the parts that, let's say, draw away from the nice parts, are all the other parts. These parts include the plot, the camera work, the lighting, and all other aspects of film.
That last, say, 10 seconds of the film show Haruhi, completely oblivious to how atrocious the film was, smiling, and Kyon doing his best not to throw up.
But that episode doesn't really matter. I think it's actually called episode 00, for it's lack of importance and impact on the rest of the series. Or at least it should be. If you wanted, I supposed you could skip episode 00 altogether.
But
, then you'd miss the Haruhi-proclaimed cute, small and big-breasted Mikuru Asahina running around in a tight bunny outfit with apparently no bra on. If you know what I mean. And no true otaku would miss that!
Anyway, episode 01 is when you realize how really really awesome the show is, and how really really awesome Haruhi is. If you haven't seen the show already, like you probably haven't, then I'll tell you how awesome psycho/dominatrix/bitch is for you...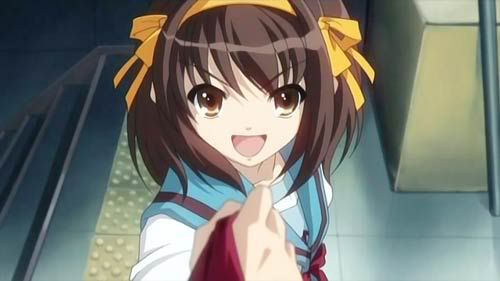 Really. Awesome.
Anyway, episode 01 introduces such characters as the wacky extortionist you're already acquainted with, Haruhi Suzumiya; Kyon, the sarcastic and completely dull in comparison the the rest of the characters drone of the story. He prides himself on being the only normal person in the SOS Brigade, but we all know that that just means
boring
; Yuki Nagato, the quiet, book-reading babe, is in fact not a member of the SOS Brigade, but the one remaining literary club member! She's very brief with people, and socially incompatible, likely with all; and finally, there's Mikuru Asahina, who appears to be Haruhi's
loli-doormat
. She cries, too.
She cries alot.
The contents of episode 01 include extortion, molestation, and doormat-ization. What more could one hope for? In fact, if there was some casual lesbian sex (see Shizuru/Tomoe. Mai Otome, episode 20) it probably would have been the greatest episode of anything that I'd ever seen before.
Anyway, everyone in the school is weirded out by Haruhi, even if she is cute, mostly because her class introduction pertaining to aliens, and ghosts, and espers and sliders, and etc. She's curt with everyone, but Kyon manages to completely accidentally get on her good side through chop talk.
Moving along, Haruhi decides to, since she can't find one, make a club. A very weird club, known as the SOS Brigade, with unclear motives and objectives. She also informs Kyon of her idea through severe head trauma by way of her desk.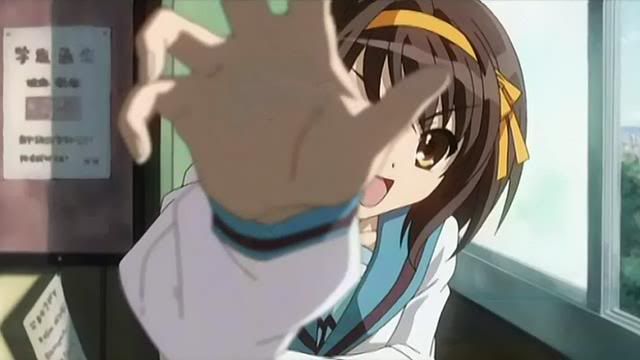 Haruhi revelation.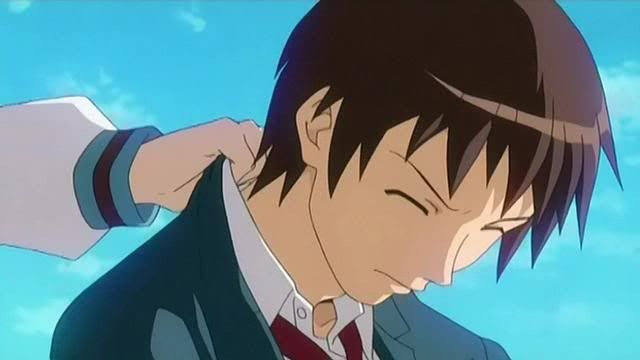 Collar graspation.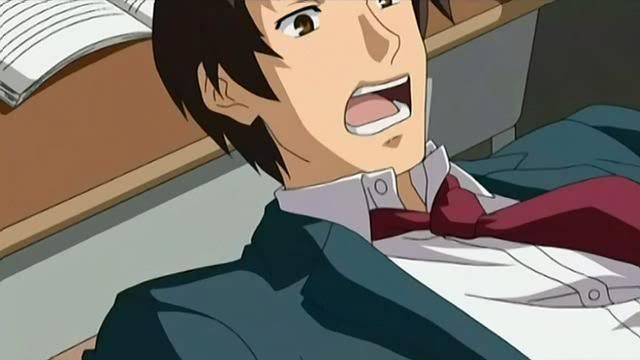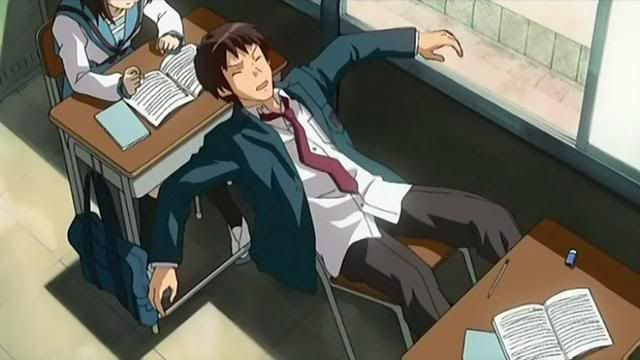 Head traumatization.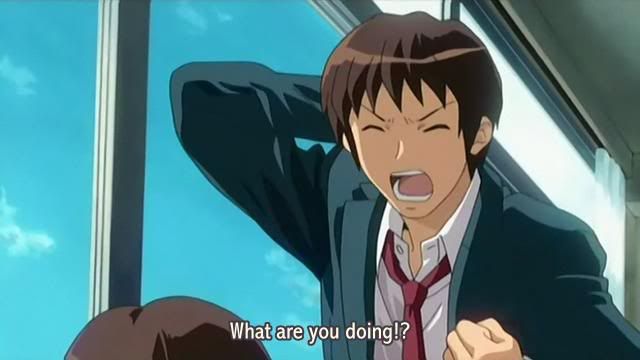 Explanation?
Ha. It would've been funnier, had I used real words.
This is most likely my favorite scene out of any anime episode I've ever witnessed, ever.
Haruhi is very good at this exaction thing, apparently, too. For by day break of that very same day, she'd gotten a club room, plus two more cronies. Granted, one is an android of a person and not technically in the club, and the other was kidnapped and molested.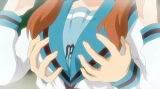 Really molested.
That's about it for the episode. I can tell this will be a great (great) show.
Oh, Haruhi also has the habit of saying totally alot, which I never realized myself, but is totally cool.
Also, the closing dance number for each episode is awesome. Kyon, Yuki, Mikuru, Haruhi, and some other person do this super cool choreographed dance at the end, which, unfortunately, must be interrupted every second or two by four to ten seconds of credits. But trust me, it's awesome.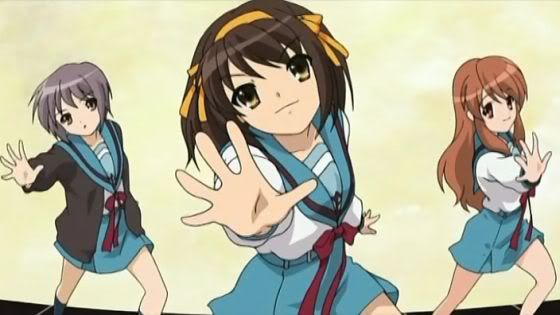 Infinitely awesome.
Episode 03 Review:
Oh, it just gets better and better. But this episode stops in its tracks and makes a sharp turn
backwards
. Episode 02 teaches us that nothing really is
priced
, because through extortion and blackmail, all desired worldly possessions may be... possessed.
This episode is even more awesom than the last. More extortion, more molestation, blackmail, AND alien sex! Just joking. There wasn't that much extortion in this one. Oh! You guys are too easy. But seriously, there was lots of extortion, as always.
Apparently, Yuki is actually an alien of some sort, and so is Haruhi. But for seriously, not figuratively.
But we'll get back to that. Actually we won't, but whatever.
Well, what is the beginning of a show without some blackmail. While sitting around in her almost fully accessorized club room, Haruhi decides that this is a technical age, and that they needed a computer!
It's not like they couldn't have just gathered some money to buy a computer, it's just that the Computer Society's room was closer than the tech store, and blackmail is less expensive. To be honest, Haruhi isn't being mean in this case, she's just being a Bargain Shark.
Let me explain.
Disposable camera = 2 bucks
VS.
Computer = 500 to 2000 bucks for a really sexy awesome computer.
Commense, operation blackmail.
Commense, hand/breast contact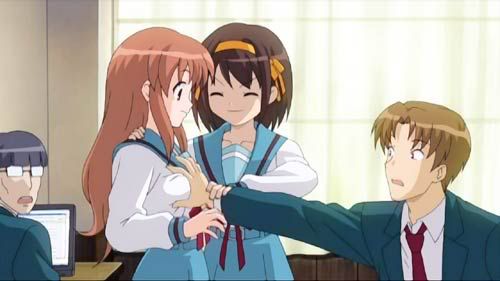 We have hand/breast contact. Over.
Roger. Commense, blackmail.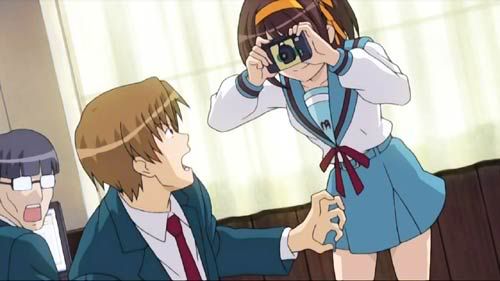 We have flash. Picture success.
Roger.
Throw in a bit of moping around, a bit of crying, a bit of literature, and a bit of extortion, and now you have the next major scene.
Once the computer had been stolen, and a high speed LAN-connection exacted, Haruhi ignores Yuki, as usual, forces Kyon to make a website for the SOS Brigade, and then molests Mikuru.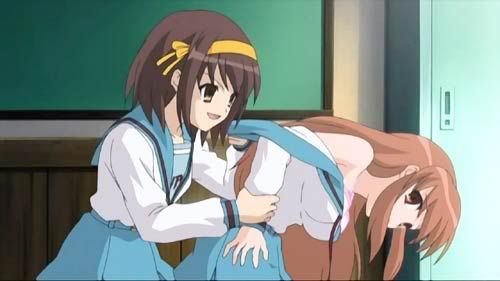 Again.
Actually, just undresses her, and undresses herself, so they can change into their bunny costumes! She plans to get all sexy and cute so more people will notice that they are passing out flyers for their club. To do this, they dress up in really skimpy bunny outfits then go prance around outside at the school gates.
Pure genius I says, pure genius. Advertising agents should take note of Haruhi's brilliance, and send a few skimpily dressed girls to prance around the doors of my school. Wait, my school has that anyway.
It's about this time that you realize how smokin' Haruhi is, especially in a bunny costume.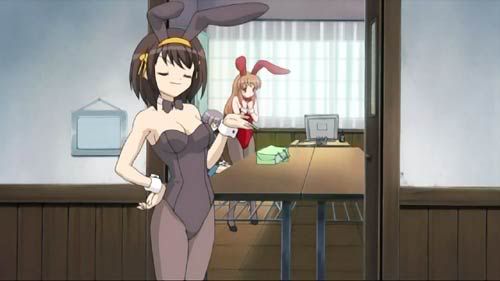 How smokin'?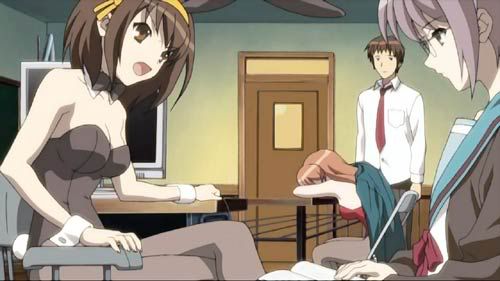 Really smokin'.
I'll stop there, though. I wouldn't want to spoil the alien sex-tastic ending!
Note:
No more reviews.
Sorry. I wrote this up during vacation - the fact that school would begin again, eventually, escaped me.
Anyway, I don't have enough time to review each episode.
Keep watching the series, though.
>
the series was aired out of Chronological order, and may make more sense if watched in sequence:
Episode # Chronological #
Episode 01 = Episode 11
Episode 02 = Episode 01
Episode 03 = Episode 02
Episode 04 = Episode 07
Episode 05 = Episode 03
Episode 06 = Episode 09
Episode 07 = Episode 08
Episode 08 = Episode 10
Episode 09 = Episode 14
Episode 10 = Episode 04
Episode 11 = Episode 13
Episode 12 = Episode 12
Episode 13 = Episode 05
Episode 14 = Episode 06